Holiday Indie Gifts Day 4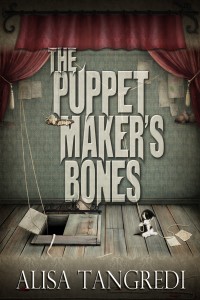 With so many independent artists, there's a variety of unique gifts you can give. I'll highlight one a day through the New Year! Day 1 – Holiday Gifts by Adam Emperor Southard Photography
Day 2 - HUCK FINN: The Robotic Edition & The Selling, a supernatural comedy
Day 3 - Fund an education Shakespeare Puppet Video in someone's name
DAY 4 - The Puppet Maker's Bones by Alisa Tangredi
The Puppet Maker's Bones (Death's Order)
Loneliness can drive a man to madness, but Pavel Trusnik is not a normal man. After committing a crime that leaves him shunned and isolated, he has only the fading memories of his tragically flawed life, and his one great love.  When a violent sociopath sets his murderous desires upon the elderly shut-in, only an ancient order that knows Pavel's secrets can come to his aid. But for Pavel, the vicious intruder is the only company he has had in decades….
BUY THE BOOK AT: Amazon.com Barnes & Noble Kobo Powell's City of Books Smashwords Sony Vroman's Bookstore, Pasadena
WATCH Alisa's video interview when it was first published.
[youtube http://www.youtube.com/watch?v=YP9lipyE7bc&w=560&h=315]